Sergeant Kennedy takes the students on a trip through the annals of time to the convict days and the early colony of New South Wales.
The students relive the Voyage of the First Fleet, raise the King's Colours, attend work orders and then this is where the fun begins as your students and school experience participation in a recruitment of soldiers into the New South Wales Corp and the arrest of a student convict.
The question are ...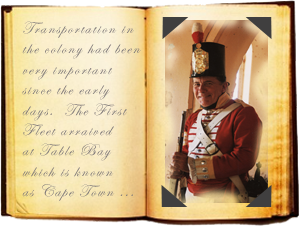 What to do with the convict?
Can the students hold their wits and tell the story of the Black Velvet Band and how the British Government introduced the practise of Cribbing which framed tradesmen for the crime of theft?
Can they bear to hear the serious, yet funny stories told by the Sergeant and the reason he was sent to the Colony of NSW?
A brilliant alternative to the full day show. It is an informative performance filled with facts and student involvement based on the Human Society and Its Environment (HSIE) Syllabus and can ALSO be incorporated in the Connected Outcomes Group Support Curriculum (C.O.G.S) Syllabus.
This is an affordable show for all schools and there is only one way to find out ... Call 1300 860 074 or view our website to enquire or book the "Colonial Tales" and let your students experience the most productive educational incursion in Australia.
THE COLONIAL TALES is based on a LIVE INTERACTIVE SCHOOL SHOW and SCHOOL INCURSION
Prices start from $10.00 per child.
To view the learning outcomes the Colonial Tales Incursion meets and for more detailed information regarding this or our other shows, please click on the following link Iconic Performances Educational School Shows and click on your preferred show.